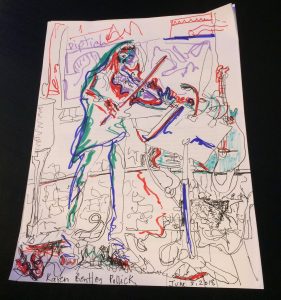 Great performances by
Karen Bentley Pollick in a program of wonderfully varied music by New York Women Composers as part of the SPECTRUM Female Composers' Festival.
Concert Program
Karen Bentley Pollick will be mixing Serbian, Lithuanian, Oriental, Icelandic & Mid-Eastern harmonies and melodies in a violin & viola recital coming up

And, I'm happy to say that the program includes two of my solo violin pieces and the NY premiere of a miniature for solo viola. Here's the video of her earlier beautiful premiere performance of Mixed Times of Yearning in Seattle.
February 1st, Karen Bentley Pollick performed a fabulous concert at the beautiful Chapel Performance Space at the Good Shepherd Center in Seattle, Washington. The program featured music by NYWC members Victoria Bond, Adrienne Elisha, Marga Richter, Faye-Ellen Silverman, as well as works by Mark Kopytman, Jonathan Berger, and a world premiere of Karen's own new piece for solo violin.
Her performance of the world premiere of my miniature for solo viola, Mixed Times of Yearning was so perfectly exquisite.